"Bridges cultural and political borders through education and exchange, creating global citizens and making the world a better place for future generations.."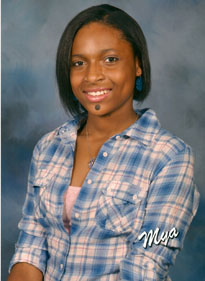 Mya, a Junior at Ursuline Academy in Blue Ash, Ohio has been selected to participate in the 2014 People To People Student Ambassador Program trip to Europe representing the United States. In a period of 20-days she will journey to the following countries: England, France, Germany, Belgium, The Netherlands, Austria, and Switzerland where she will soar on a zip line above an Alpine lake, trace heroic footsteps along the beaches of Normandy, and make friends with a German family during a home stay. She will meet with a member of the British Parliament and go behind the scenes to explore European cathedrals and majestic castles. Mya will experience these magnificent countries in ways that will inspire her imagination, feed her curiosity, and give her a new perspective on this amazing part of the world. All this while earning college credit!
Mya has found her own way of giving back to the community by volunteering her time. She is a Youth Docent at the National Underground Railroad Freedom Center. She raises money for Relay for Life™ and, through her school she helped serve the homeless at Mercy St. Franciscan. Mya has served as a Volunteen with the Ronald McDonald House, and a Counselor - in -Training with Gorman Heritage Farm. She is also a babysitter and dog sitter. She does all this while maintaining A/B grade status.
As a result of Mya's commitment to education, personal growth, and community, MJS & Associates is proud to sponsor her on this amazing trip to Europe. We are offering you the opportunity to support Mya on this great adventure with your donations. MJS & Associates will match dollar for dollar each donation received for Mya's trip. In recognition of your generosity, MJS & Associates will create a special commemorative booklet containing pictures from Mya's trip and listing all donators. This commemorative book will be signed by Mya and mailed to you as a thank you gift for your generous donation.
Your donation will provide Mya with an opportunity to expand her education outside the classroom as she proudly represents her country. Your donation will open the door and enable Mya to experience different cultures, develop long-distance friendships, and interact with the global community. Please consider contributing $25, $50, $100, or $250 toward Mya's trip. Remember, MJS & Associates will match your donation dollar - for - dollar, up to the cost of the trip.
Thank you in advance for your support
Sincerely,
MJS & Associates and Mya